The Mission of the HSMP is to create economic opportunity by retaining, expanding, and attracting higher-paying jobs, expanding and diversifying our local economy, increasing incomes and investment, and generating positive growth throughout the Hot Springs Region.
Hot Springs Metro Partnership
The Hot Springs Metro Partnership is the area's public/private economic development organization, serving all of Garland County.  Located in the heart of the nation and within a one-day drive of 80 million people, Hot Springs is a great place to work and live. While we have a small-town family atmosphere, there are also more than 250,000 people within a 30-minute driving radius of Hot Springs, ensuring our employers have a readily available workforce. Greater Hot Springs has one of the most vibrant economies in Arkansas in one of the nation's most scenic settings. The region has a reasonable cost of living and a business-friendly approach that has attracted global companies as well as entrepreneurs.
Business is hot in the Greater Hot Springs region. By any measure, the region is growing—from its population and employment numbers to tax revenue and new construction. That's why companies as diverse as Triumph Airborne, Xpress Boats, Timber Automation, and Alliance Rubber all happily call the region home. With access to waterways, railways and truck, intermodal freight transportation makes doing business all over the world convenient and efficient.
The Hot Springs Area has a wide variety of property for business relocation and expansion.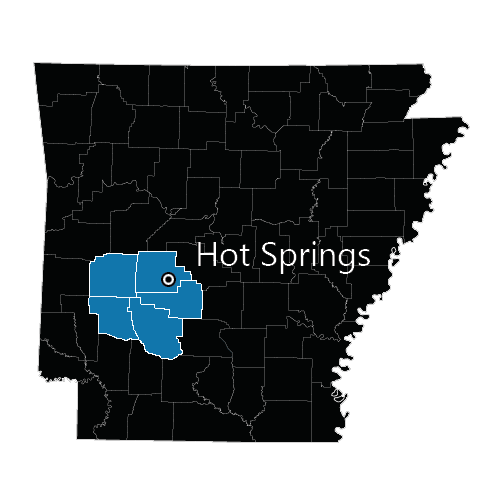 A top destination for Arkansas tourism, the Hot Springs region is experiencing growth and expansion. Tens of millions of dollars were invested in the area in 2022 alone. With top-ranked public schools, the region is also home to two four-year universities and two nationally accredited colleges. The Hot Springs area has a regional airport as well as quick access to Interstate 30 and several regional hubs, including Little Rock.