Chamber/Partnership host community building expert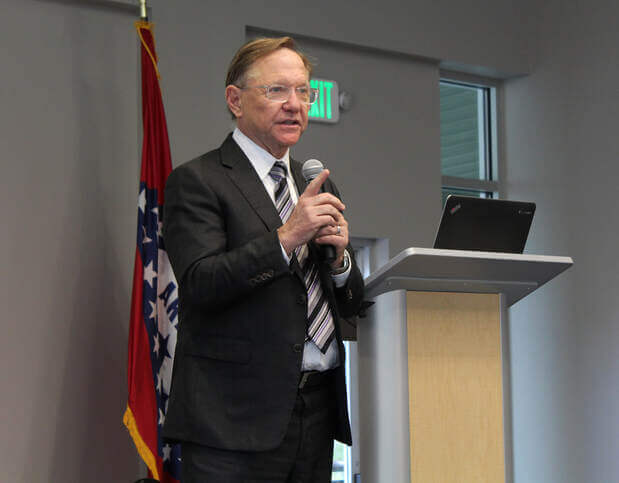 The Greater Hot Springs Chamber of Commerce and the Hot Springs Metro Partnership brought their annual benchmarking trip home this year by bringing in a community building expert.
The Chamber and Partnership hosted Quint Studer the author of "Building a Vibrant Community: How Citizen-Powered Change is Reshaping America" and founder of Pensacola, Florida's Studer Community Institute and its Center for Civic Engagement.
Studer believes vibrant communities don't just happen—they are built in a smart and organic way. Pensacola faced similar challenges to Hot Springs in that its young people were leaving and not coming back as well as challenges with its downtown. Today much has changed and Pensacola is now thriving.
During the Reverse Benchmark, presented by CHI St. Vincent Hot Springs, Studer evaluated Hot Springs through surveying and visiting with key community stakeholders. Studer said for the most part the community of Hot Springs is doing well. However, he said doing well can be a stumbling block.
"Sometimes when we start getting good, we want to claim victory," he said, adding that Hot Springs can go from "good to great" by focusing its efforts on two areas.
Two challenges the Hot Springs area faces are a stagnant population and making the right choices with how to develop the former Majestic Hotel site.
"If you look at cities that are thriving, they keep their talent at home," he said in reference to targeting the 25- to 35-year-old population. "If you want to create a great community, you've got to create a great place where young people can fulfill their potential."
Studer said the downtown area is close to being a vibrant community, noting it has great retail and office space. However, he said Downtown Hot Springs has a gap in residential opportunities. One key way to attract young people is to have downtown living.
In Pensacola the average an available housing unit stays on the market is only one minute, Studer said, adding that Downtown Hot Springs has some great potential.
Another key factor to attracting young people to the Hot Springs area is to have creative ways to help startups thrive.
This is the first time in history that young people search for a place to live first, then search for a job, he said. "You've got 60-70 percent of what people want," he said, adding that good housing stock and startup help can really keep talent in Hot Springs, attract talent back, and attract new talent.
"I don't know why someone would want to live in Little Rock, when they can live in Hot Springs," he said.
Like Hot Springs, Pensacola depends on tourism. However, the best way to support tourism is to create a high quality of life for the people who live here, he said.
"If you do things for people who live here, the tourists win too," he said.
Studer emphasized the importance of developing the Majestic Hotel site in the right way.
"You want to do the best market research," he said. Putting the right thing in the right location can make a big impact on Hot Springs. However, he added putting the wrong thing in the wrong location, can also have big impact, but one that is not desired.
Studer said the Hot Springs community has many wonderful aspects that could be maximized, like recreation and the downtown area.
"You are not taking advantage of things that can take you to the next level," he said.
Another way to help downtown thrive is increase the walkability by slowing traffic down on Central Avenue. Studer also sees potential for Whittington Avenue to attract people to the downtown area.
​
"Residential is so vital to a community. You have some great opportunity," he said.