ACTI Committee endeavors to gain support from area leaders and groups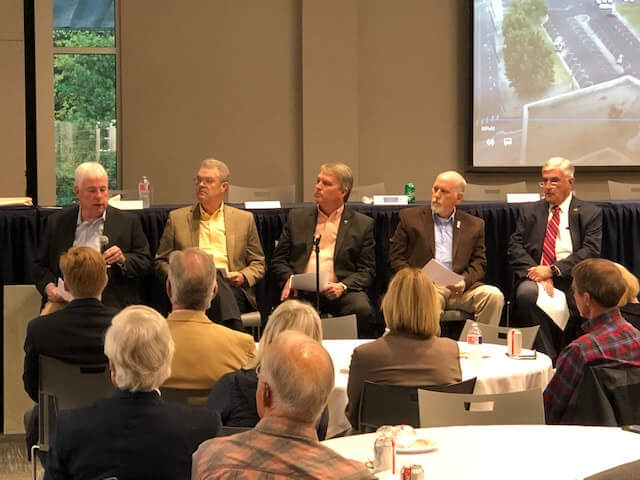 In a span of 30 days, the ACTI Committee will have spoken to at least four local civic and government agencies about the importance of preserving the main building on the campus of the former Arkansas Career Training Institute.
The Greater Hot Springs Chamber of Commerce committee was formed to promote the safe and secure closing and possible repurposing of the main building on the campus after ACTI announced its closure in May. The main building was built in the early 1930s as part of the Army-Navy Hospital.
The ACTI Committee presented to the Hot Springs Advertising and Promotions Commission on Oct. 28th, Hot Springs National Park Rotary Club on Oct. 30th, and the City of Hot Springs Board of Directors on Nov. 5th, and will present to the Garland County Quorum Court on Nov. 25th. The committee also intends to present to the Oaklawn Rotary Club in the near future.
The goal of the committee is to gain grassroots support and encourage local leaders and citizens alike to contact their congressmen on the importance of protecting the integrity of the area. The committee hopes to gain the support of the community and its leaders to prevent potential negative effects to the historic Downtown Hot Springs area and Hot Springs National Park.
The closure of the facility leaves several large vacant buildings that, if not handled correctly, can pose a public safety risk, including vandalism, homeless occupancy, environmental issues and potential fires that could spread to the mountains in Hot Springs National Park. A main concern to the committee is the risk of possible harm to the thermal springs and Hot Springs National Park, a major draw for tourism, which is a main economic driver in the area. If not handled properly the closure could pose a long-term major detriment for the downtown area and the national park.
​
The committee's presentations show the importance of developing a comprehensive plan for the closure to prevent a disaster such as the Majestic Hotel fire in 2014.
In order for the plan to be a success, it needs the help of leaders in Washington, D.C. The committee is asking for support from U.S. Sens. Tom Cotton and John Boozman and U.S. Rep. Bruce Westerman in seven areas: expediting registration of the site as a brownfield environmental site, if environmental problems are found; obtaining federal funding for basic security and maintenance after June 30, 2020; securing the property with fencing; assigning national park police to assume security after June 30, 2020, when the private security is no longer used; demolishing many of the 30 outbuildings on the site; providing a clear chain of command for management of the property; and encouraging repurposing of the facility. However, if repurposing is not possible after several years, demolishing the complex and returning the land to be a part of the national park in order to protect the thermal springs.