NPC opens new marine technology building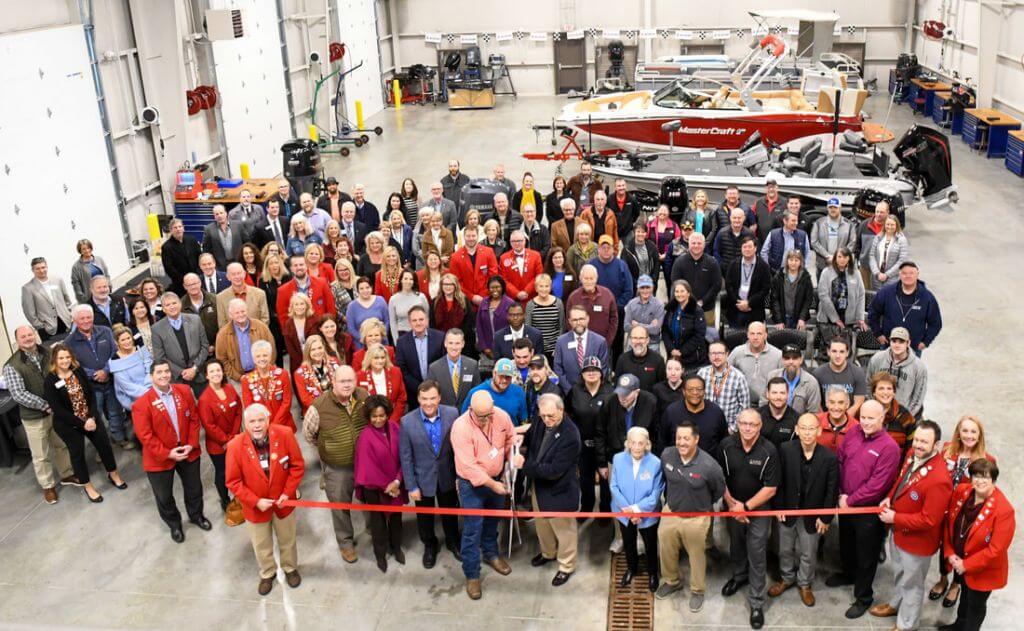 Hot Springs, Arkansas – National Park College (NPC) hosted a ribbon cutting ceremony Thursday, Jan. 30th for the newly constructed Marine Technology building. 
The College broke ground on the facility in April 2019. The 7,500 square foot metal structure is 60 feet deep and 125 feet in length with four 25 x 60 foot bays. The interior space includes a large shop area, a classroom, office and storage space with room to expand.
Vice President for Academic Affairs, Dr. Wade Derden shared that NPC's Marine Technology program is the only one of its kind in the state and one of only a handful in the region. He praised instructor Delmar Hunter for his efforts to strengthen the program. The program receives a tremendous level of support from industry partners that includes more than $160,000 of in-kind contributions and paths for our students to receive industry certifications with Yamaha, Mercury, BRP, and Suzuki through online training.
Local business and industry has also committed significant resources to the program, including boat and engine donations, and service on the program's advisory committee, which directs the curriculum of the program. "Local industry leaders like Trader Bills, Ouachita Marine, Bradford Marine, Brooks Marine, Orr Marine, Futrell Marine, Elite Marine, and Mountain Harbor Resorts have committed themselves to the success of this program and helped open up lines of communication to manufacturers. They've also helped recruit students, served as expert speakers for our students in their capacity as master technicians and owners, and they have worked with us to develop a robust internship program to help our students integrate into the workplace," said Derden.
Derden added, "With this facility we dedicate today, we can truly expand the program's enrollment and better equip our students for a healthy future career. We hope to double the size of this program and add relevant curriculum in the coming years with your continued support." He announced that NPC would begin hosting Suzuki Factory training in March.
Rick Kesterson, president of Futrell Marine talked about the importance of quality training for the marine industry. "It is a workforce issue and I am glad that it's at the forefront here at National Park. It's safe to say that a technical workforce shortage is probably the biggest challenge facing our industry today. During almost every meeting or conference I attend, this discussion is always at the forefront. Finding and retaining great technical help in our industry is not easy. A workforce issue quickly turns into a customer service issue." Kesterson added, "It's all about providing our customers with great experiences. All roads lead to us all coming together collectively to get trained qualified personnel out into the marketplace."
Bill Barnes, president of Mountain Harbor Resort and Spa and the Tri-Penant Family of Resorts said in his 50 years in the marina business there has never been an adequate number of technicians to support the need. "Arkansas has 600,000 acres of lakes and 10,000 miles of rivers and streams. There's 16,000 registered boats just in a five county area right here, and that doesn't count all of the stuff that gets trailered in. There is a tremendous need." He explained how the nature of the work has elevated over the years, "With every graduating class here, you fill a huge void with quality, quality people that are embarking on a wonderful career path. When I was a kid growing up, it was a motor mechanic. These young men and women are technicians. They are absolutely technicians. You look at these engines, and the size and the sophistication, and frankly the cost. They are technicians. They are high quality people charged with keeping an expensive, very elaborate piece of equipment running."
NPC President, Dr. John Hogan shared the impact the new facility would have on students. "We think about the impact what we are teaching will have on those students, on their families, on their grandchildren and on the generations of our residents. These are the building blocks of our community, and we wake up every day thinking about our students, how we can listen to them, and what we can do to give them an advantage." He also noted the economic impact the program has on both the tourism and manufacturing sectors. "Students are going to benefit from this program. Generations are going to benefit from this program, so it's worth the risk. It's worth the investment and that's what we want to continue to do."
####
​
National Park College was established in 1973 and is located in Hot Springs, Arkansas. The College enrolls over 7,500 credit and non-credit students per year. NPC is a comprehensive two-year institution offering associate degrees and certificates as well as continuing education, community services and workforce training.