HSMP Announces Economic Development Award Winners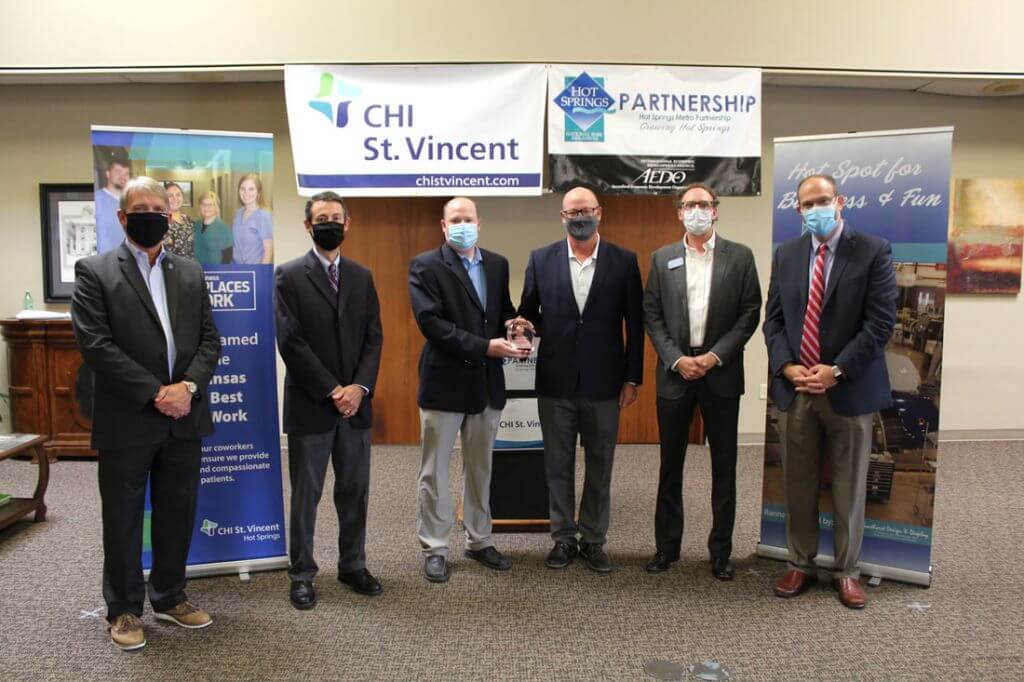 (Hot Springs, AR)  July 27, 2020 – The Hot Springs Metro Partnership held its annual meeting and economic development awards virtually this year. The event, sponsored by CHI St. Vincent Hot Springs, can be viewed here.
The HSMP holds its annual meeting and awards ceremony every year to thank its investors and inform them of the progress the Partnership made the previous year. The event honors those who worked tirelessly throughout the previous year to help provide Hot Springs and Garland County with an outstanding economic climate by bringing in more jobs and investment in the community.
"What a difference both our deserving winners and worthy nominees made to drive both Hot Springs and Garland County forward in the past year and a half!" said Gary Troutman, President & CEO of the HSMP.
"Though we had to hold the event virtually, that in no way diminishes the many outstanding achievements and accomplishments of our nominees," stressed Troutman.
The winners are:
Hot Springs Economic Force Award
Oaklawn Racing Casino Resort was awarded the Economic Force Award. This award is presented to a vital company in the Hot Springs Metro region.
Oaklawn Racing Casino Resort is a fixture in the local economy. Oaklawn made the single largest investment of the year in 2019 and is creating more jobs at one time than any other single entity. When Oaklawn undertook a $100 million expansion of its casino and the construction of a new 4-star hotel and conference center, it heightened Hot Springs' position in the national conversation and directly and indirectly spurred millions more in investment and new business activity in the community.
Those also nominated were Radius Aerospace, US Vanadium, Cobalt Aero Services and Ritter Communications.
Economic Development Leadership Award
Vince Signorelli was awarded the Economic Development Leadership Award. This award is presented to an individual who has shown strong leadership in economic development efforts.
Signorelli is an outstanding champion for the community. In 2019, his company continued to bring national attention to Hot Springs by hosting the US National Indoor Pickleball Championships at the Hot Springs Convention Center. His companies Tanners Team Sports and Vulcan Pickleball continue to innovate new products and lead the market in worldwide baseball, pickleball, and other sporting goods sales. He was also recognized in 2019 as he and his company received the Governor's Award for Excellence in Global Trade. Signorelli has also stepped up to serve on the board of directors for the HSMP and has donated his time and resources to help advance our efforts.
Those also nominated were Forrest Spicher, Diane LaFollette, Lesley Nalley and Majestic Ballpark Committee.
Downtown Trailblazer of the Year
Crystal Ridge Distillery was awarded the Downtown Trailblazer Award. This award is presented to an entity who made a significant investment in downtown Hot Springs.
Crystal Ridge is an exciting new business in Hot Springs. They renovated a vacant warehouse building on Broadway and breathed new life into the building and this area of town by opening a craft moonshine distillery, restaurant, bar, and retail store. When the coronavirus struck, they used their distilling resources to pivot into the manufacture of hand sanitizer which has become a Hot Springs staple.
Those also nominated were Splash Wine Bar, The Waters Hotel Rooftop and Hotel Hale.
Historic Preservation Champion
Hotel Hale was named the Historic Preservation Champion. This award is presented to an entity that has shown great care for the preservation of a historic structure.
Already winning the statewide award for Excellence in Preservation, Hotel Hale took a bathhouse in Hot Springs National Park that had been vacant for decades and transformed it into a beautiful new hotel and restaurant. This new addition to downtown has added much needed high-end hotel rooms and a wonderful new dining option to the Hot Springs experience.
Those also nominated were Capone's Loft, Crystal Ridge Distillery and McGrew Companies.
Trending Upwards Award
Radius Aerospace was awarded the Trending Upwards Award. The award is given to an entity that made a sizeable investment and created new jobs in the community.
Radius Aerospace was the Metro Partnership's single largest manufacturing expansion project of the year. This company announced a $24 million new investment in Hot Springs coupled with the creation of 65 new jobs. With their origins headquartered in the heart of Hot Springs since 1966, and with locations in 4 other states and the U.K., they are on the leading edge of their industry, building a new titanium forming facility which is the future material for aircraft parts.
Chairman's Award
Hill & Cox Corporation was presented with the Chairman's Award. This is a special recognition selected by the Chairman of the Board to recognize someone who has made a positive impact on the community but may not fit into one of our other categories.
Hill & Cox helps to build the community and impacts the skyline more than any other. In 2019 this locally-owned company built projects valued at over $57 million including construction on new buildings for National Park College, Hot Springs School District and CHI St. Vincent Hot Springs. They contracted with over 600 skilled workers on these projects injecting millions back into the local economy through payroll, the purchasing of materials, and having out of town contractors patronize local hotels, restaurants and other businesses.
​
The mission of the Hot Springs Metro Partnership is to create economic opportunity throughout the Hot Springs Region.
For further information, contact Mara Kuhn at 501.321.1700 or mara.kuhn@growinghotsprings.com
– 30 –