SupportSpaCity wins regional award for Community Responsiveness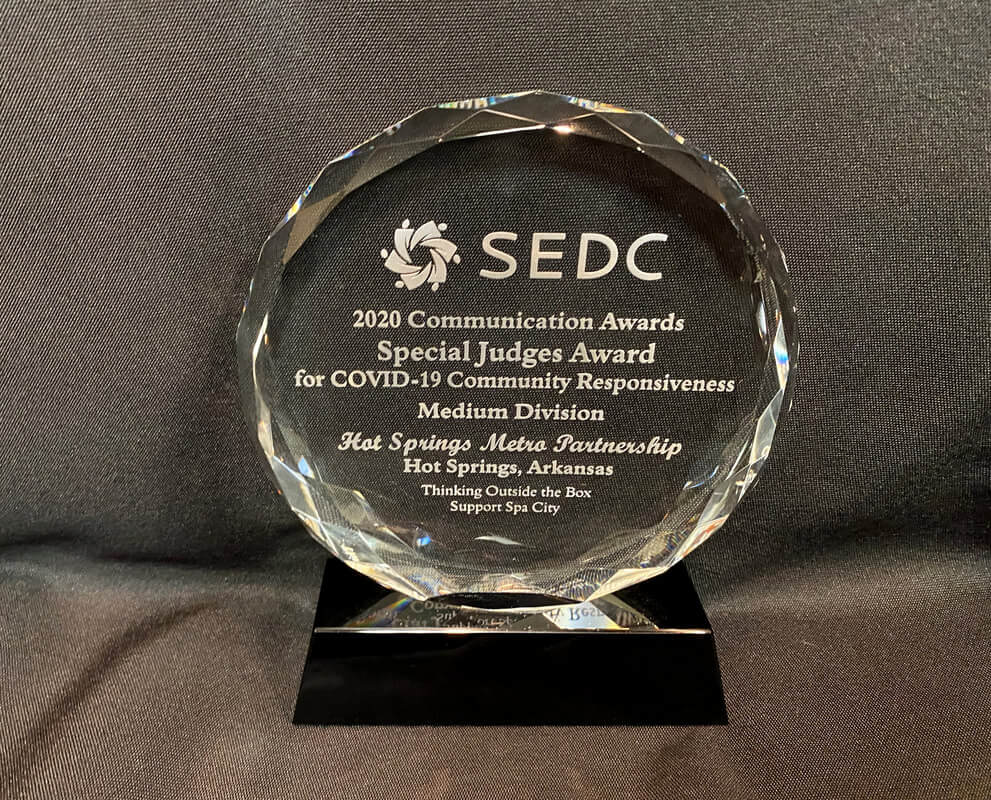 The Hot Springs Metro Partnership, Hot Springs Area Community Foundation and Cooperative Christian Ministries and Clinic were recognized by the Southern Economic Development Council for their community responsiveness during the COVID-19 pandemic.
"These annual awards recognize and showcase the leading communication and marketing work done by economic development professionals throughout the south. Hot Springs Metro Partnership hit the mark this year with this communication piece. Its entry in the Thinking Outside the Box category titled, Support Spa City, won a Special Judges Award for COVID-19 Community Responsiveness. This piece not only showed creativity, but also solid messaging and effectiveness at reaching their target audience. We were wowed by all the entries we received this year and were impressed with the high level of marketing work being done in economic development by SEDC members," said SEDC president, Gene Stinson, after the ceremony.
SEDC is a group that spans 17 southern states. The award was presented virtually during the SEDC's annual conference on Monday, Aug. 17th for community responsiveness during the COVID-19 pandemic. It was one of only four awards given out during the conference, and the only one awarded for COVID-19 responsiveness.
"We appreciate the partnership we had with CCMC and the Hot Springs Area Community Foundation in providing this program for our local businesses and displaced workers during the scariest part of COVID, the early onset when there were virtually no facts out there and our business owners and furloughed workers had no idea what to expect from one day to the next," said Gary Troutman, President & CEO of the HSMP. "This money kept some in business and provided meals to families during some of their most challenging times."
"Major kudos to Cole McCaskill for the inspiration to create SupportSpaCity.com and to Mara Kuhn for building it out with an assist from Cole and Lisa Engebretson. They are very valued members of our team here at the Hot Springs Metro Partnership and Chamber. The site wound up generating $81,000+ in commerce to 98 local businesses and over 300 displaced workers at a time they needed it most," he said.
"It is a tremendous honor for Hot Springs and Garland County to be recognized on a national level from SEDC. We will continue to do our best to help businesses and workers as we all navigate the unchartered waters of the COVID virus," Troutman said.
#SupportSpaCity was a campaign for a buy-one, give-one community relief program. The initiative was designed to quickly get cash in the hands of local small businesses during the COVID-19 pandemic and to give grocery relief to those individuals who experienced a loss or reduction of employment due to the health crisis.
Judges for the SEDC Communication Awards competition are economic development consultants, communication, and design professionals from across the southern United States who work with clients in developing strategies for growth in their communities. SEDC chose these judges because of their knowledge of the economic development process, the development of marketing content, and graphic design. They understand the needs businesses have in choosing a site and how communities and economic development organizations can reach prospective clients through their marketing efforts.
​
The mission of the Hot Springs Metro Partnership is to create economic opportunity throughout the Hot Springs Region.